Email Hosting and Features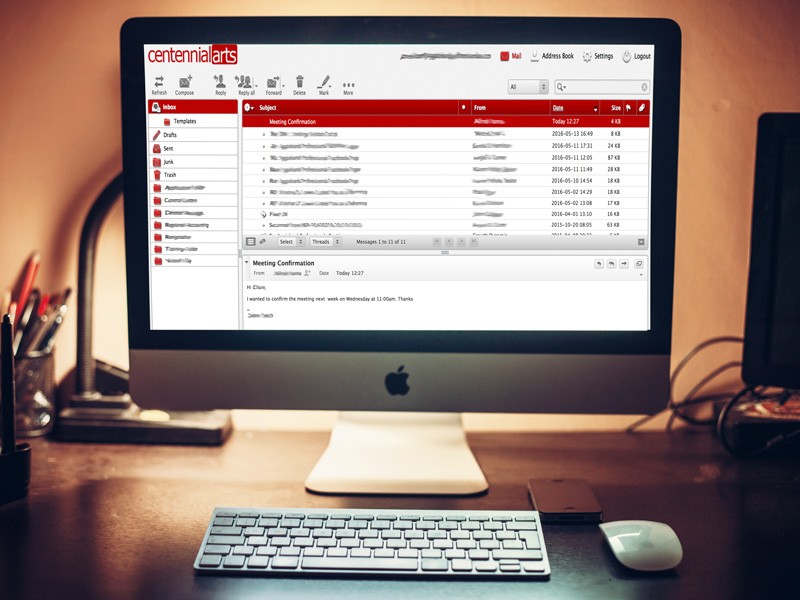 Centennial Arts offers online business class email services that can be accessed via a caMail login portal. This login portal interfaces directly with your email account and can be used from anywhere in the world right through your browser or any mobile devices.
Versatility and adaptability is the key to success in business these days and Centennial Arts has kept this in mind. We know our clients need a user-friendly, easy access caMail that can be accessed quickly and on the go. This is why we offer business class email services customized for your domain and easily accessible from your smartphones.
Email Packages and Pricing
Feel free to look at our email packages and options. If you need help, Contact Us now and we will be more then happy to answer your questions and find the best options for you and your business.
Our business class email services are made to build customer trust with professional email addresses. As prospecting and current customers will want to communicate with you throughout your professional relationship, our email services accommodate the needs of both you and your customers' needs to ensure your business has constant growth.
Email Features and Management
Controlling SPAM
We've designed our spam filtering in our enterprise class email systems to be adjustable according to the your needs. As the Internet continues to evolve, security becomes more essential. Our team continually adjusts SPAM filters to reduce occurrence in your Inbox unlike free email services.
Email Filters
You have the flexibility to create rules on how to control what goes on in your email account.
Threaded Email Conversations
Real-Time Mailbox Search
Automated Response filter
Email Management
Our unique email management system has features unlike any other system on the Internet. Aside from being able to update passwords for email accounts, one of the favorite features is changing the username while retaining your Inbox and the folder structure. Learn how to manage your company email accounts via the admin panel.
Email on Your Mobile Devices
Our email services can also be managed directly through your smartphone. Whether it is an iPhone or an Android, we have you covered with our online support and setup for each one! Naturally if you can manage your email through your smartphone then you most definitely can manage it through your favorite email client. Outlook, Entourage, or Thunderbird can all be done using our business class email services.
Email Hosting and Features Locations
Houston Texas
San Antonio Texas